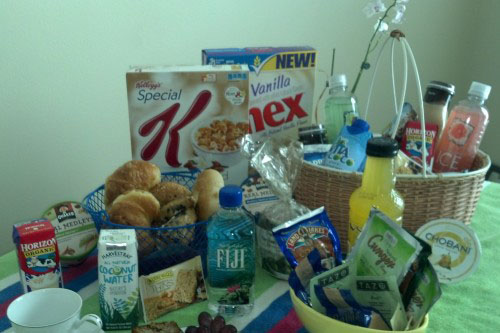 We create gourmet and themed baskets for any occasion.  Many are available for out-of-area shipping.  Whether you need a welcome basket, gifts for your bridal party, a special token of thanks, a gourmet food basket, or something completely custom, we can design it for you.  We can also put together a perfect day trip lunch or an evening picnic basket.  We know and use the best local ingredients and prepared foods and can customize to your preference.
We specialize in stocking vacation rentals, seasonal condos, and hotel rooms with all the essentials needed for your stay.  Not sure what you need?  Let us help.  Don't want to cook?  Let us recommend the best restaurants or share our private in-home chef directory.
Don't spend your vacation time standing in checkout lines or driving around town searching for local treats!  We'll obtain and stock items on your personal shopping list prior to your arrival or during your stay.  If you're a local and need shopping assistance, we can help you, too!